Congratulations CGH Outpatient Rehab Services for receiving the February Sauk Valley Area Chamber of Commerce Customer Service Award for the compassionate care shown to a patient.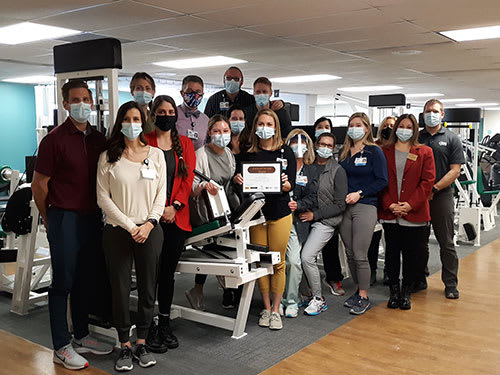 "My daughter has Down's Syndrome and has been getting therapy at the PT department on Locust St." said the nominator. "When we showed up for therapy, they had a special birthday celebration for her with hats and signs incorporated into her therapy. They just went above and beyond! They have been doing an amazing job with her, especially with her special needs. I just can't thank them enough."
Physical therapy can make all the difference when you're recovering from an injury or illness. The goal of rehabilitation is to minimize your pain and improve your independence in your daily life. Physical therapists can help you understand what has happened to your body after injury or illness, then develop a plan to correct those impairments.
At CGH Medical Center, our physical therapists are movement experts. Their education, clinical expertise, and advanced specializations provide them with the knowledge to identify, diagnose, and treat your movement problems.
Our physical therapy approach
At CGH Medical Center, we understand that physical therapy is personal. That's why we create individualized plans tailored for your body and your health goals.
The physical therapists on our team will meet with you and discuss your injury or illness. Then, we'll create a plan that blends health education, supervised clinic exercise, and at-home practice utilizing the most up to date evidence based practice.
Our highly trained physical therapists and support staff will be at your side to ensure your maximum recovery. They'll work with you, cheer you on, and update your doctor on your progress.
Conditions we treat
At CGH Medical Center we provide physical therapy services in the inpatient, home health, and outpatient settings. We take pride in our ability to provide care across life's spectrum, from pediatric to sport, work, and geriatric care. Our team can provide targeted physical therapy programs, including:
Inpatient physical therapy
Fall Prevention Program
Home health physical therapy
Pre/post-surgical rehabilitation
Neurological rehabilitation
Orthopedic rehabilitation
Work conditioning
Sport injury rehabilitation
Pediatric physical therapy
Pain management
Wound and lymphedema management
Pelvic Health
Our physical therapy facility
Our CGH Locust Street outpatient facility includes private and semi-private treatment rooms and one of the largest therapy gyms in the area. CGH understands that providing it's therapists with the most up to date tools and techniques enables them to improve the quality of care they provide to our patients. Our facility includes:
Weight lifting machines and free weights
NuStep
Stationary bikes
Stair climbers
Treadmills
Ellipticals
Biodex Unweighting System
Work conditioning equipment
Lymphedema pumps
Hydrotherapy whirlpool tanks
Cervical and lumbar traction
Electrical stimulation and ultrasound equipment
Pediatric therapy swing, treadmill, and gait trainer
ImPACT Concussion Testing
Our physical therapists at the CGH Morrison Clinic taking pride in their ability to provide the same quality care as our Locust Street facility, but bring therapy closer to home for residents residing in western Whiteside County. The physical therapy department at the Morrison Clinic boasts five private treatment rooms and a large therapy gym. Therapy equipment at this facility includes:
Multi-station weight lifting machine
NuStep
Stationary bike
Elliptical
Lymphedema pumps
Cervical and lumbar traction
Electrical stimulation and ultrasound equipment
ImPACT Concussion Testing
Find out more
CGH Locust Street Medical Center and CGH Morrison Medical Center outpatient physical therapy are open Monday – Friday from 7:00 am to 5:00 pm.
To find out more about our physical therapists, visit our provider directory.
For physical therapy assistants, see below:
Becca Holloway, PTA

Deb Sigel, PTA

Elizabeth Senneff, PTA

CGH Dixon Rehab

CGH Medical Center

CGH Locust Street
Leslie Lackey, PTA

Melinda Brainerd, PTA

Shari Giffin, PTA

CGH Medical Center

CGH Medical Center

CGH Locust Street

Sidney Aude, PTA

Angela Renkes, PTA

CGH Locust Street

CGH Home Nursing and CGH Medical Center