Digestive disorders can impact your body's ability to break down food and absorb vital nutrients. Without the right help—provided at the right time—these illnesses can impact your overall health and vitality.
That's where the CGH Digestive Health Services comes in. Our gastroenterologists are trained to protect and boost the health of your digestive system. With their help, you can find, treat or even prevent a variety of diseases that could impact your digestive system.


Click on images below to enlarge and print



What is a GI doctor?
Gastroenterologists—also known as GI doctors—are specialists with extensive training in preventing, diagnosing and treating diseases of the digestive system, including the:
Esophagus
Gallbladder
Intestines
Liver
Pancreas
Stomach
Gastroenterologists complete up to three years of additional training to obtain board certification in gastroenterology.
Digestive disorders we treat
Our board-certified gastroenterologists are adept at both diagnosing and treating conditions that impact your digestive tract. They can assist with:
Anal fissures, abscesses and fistulas
Autoimmune hepatitis
Barrett's esophagus
Cirrhosis
Colon cancer
Constipation
Crohn's disease
Diverticulosis
Diverticulitis
Fatty liver disease
Gallstones
Gastroenteritis
Hepatitis
Peptic ulcer disease
Our team has access to high-tech diagnostic tools they can use to address your condition. They can examine the upper portion of your digestive tract with endoscopy or use sigmoidoscopy or colonoscopy to view the lower portions of the tract.
Our team also has access to specialized testing tools, such as esophageal manometry equipment to assist with swallowing disorders. They can also perform high-tech procedures to assist with GI disorders, including esophageal dilation to assist with blockages and laparoscopic gallbladder removals to help people with chronic gallbladder disease.
Our work takes place in a state-of-the-art center that's designed with patient comfort in mind. Our spacious admitting room makes for a smooth check-in process, and if you need a procedure, you'll recover in soft beds in welcoming rooms with new televisions. We also have a private waiting space open for your family members.
GI screening tests
In addition to assisting people with symptoms of GI disease, our team offers screening programs to help people avoid serious health risks. For example, our team can perform colorectal cancer screening tests, including:
Fecal occult blood test (FOBT): An FOBT tests stool for the presence of blood that is invisible to the eye.
Sigmoidoscopy: A physician uses a long, flexible, lighted tube to check the rectum and the lower part of the colon for polyps and cancer. If a polyp is found, it can be sampled through the scope and sent to a lab for testing for colorectal cancer.
Colonoscopy: A GI specialist uses a long, flexible, lighted tube to view the entire colon and rectum for polyps or cancer. If a polyp is found, it can be removed and sent to a laboratory for testing for colorectal cancer.
Barium enema: This test is an x-ray examination of the entire colon and rectum.
Your GI doctor can help you understand which test is right for you and how often you should be tested for colorectal cancer.
Your CGH Digestive Health Services team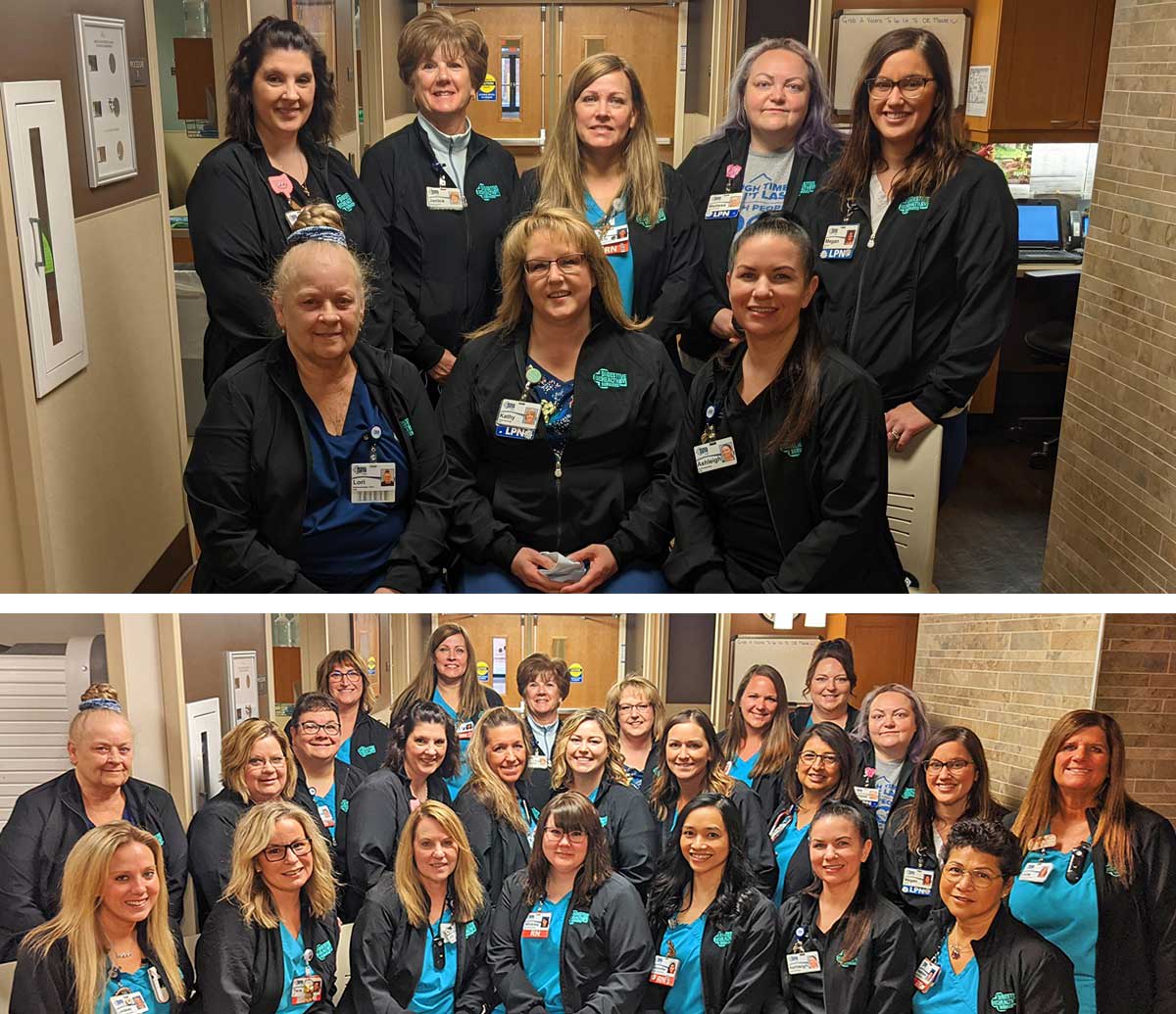 (Pictured, Above: CGH Digestive Health Services (CGH Main Clinic Gastroenterology Department Staff) • Below: CGH Digestive Health Services Staff)
The CGH Digestive Health Services is located on the main campus of CGH Medical Center, and our GI team sees patients at the CGH Main Clinic.
To find out about the gastroenterologists on our team, visit our provider directory. CGH Medical Center's highly trained nurses, gastroenterology assistants and other certified professionals in the Digestive Health Services assist our gastroenterologists.