Click here to learn about the ABCs of Heart Health!

Unfortunately, heart disease is very common in Northern Illinois, but the cardiology care you can receive at CGH Medical Center is far from common. Whether you need preventive care for a congenital form of heart disease, urgent cardiac care for a heart attack or cardiac rehabilitation to help you recover after open-heart surgery, our cardiology team has your heart well in hand.
Heart disease can take many forms, and each type of heart disease requires a slightly different type of treatment. Getting the right kind of treatment matters, as the therapies you have now could help you to avoid a heart problem in the future.
At CGH Medical Center, we offer a unique form of testing that can help your doctor to understand your heart. It's called nuclear medicine. This subspecialty of radiology involves creating images based on the detection of energy emitted from a radioactive substance given either intravenously or by mouth.
Our caring cardiac and nuclear medicine staff has over 120 years of combined cardiology experience—no other staff in our area comes even close. Plus, our department has previously received the No. 1 patient satisfaction ranking among over 250 hospitals across the Midwest. In addition to identifying coronary artery disease issues, nuclear medicine can be used to:
Analyze kidney function
Scan lungs for respiratory and blood-flow problems
Identify gallbladder blockages
Evaluate bones for fracture, infection, arthritis or tumor
Determine the presence or spread of cancer
Identify bleeding into the bowel
Locate the presence of infection
Measure thyroid function to detect an overactive or underactive thyroid
Call 815.625.0400, ext. 4456, to make an appointment or find out more.
A congestive heart failure (CHF) diagnosis can leave you feeling scared and uncertain. Our CHF program offers both care and education, so you can understand your condition and avoid future trips to the hospital.
We start as soon as you're admitted to the ho spital with CHF or diagnosed with CHF, and we'll work closely with you to manage your health. Within three days of discharge, the CHF nurse coordinator begins working with you via weekly phone calls to discuss:
Diet
Exercise
Medication
Signs or symptoms of CHF
Weight management
If you're at the highest risk of being readmitted to the hospital, you'll work closely with a cardiology nurse practitioner in the outpatient CHF clinic too.
For more information about the CHF program, call 815.625.0400, ext. 4426. Physician referral is required. Read more about this program.
There's a lot you can do to keep heart disease under control. We can help you understand how to do just that with our classes and screening programs.
For example, the CGH Health Foundation offers a low-cost cholesterol and glucose screening once a month. Call Sherry at (815) 625-0400, ext 5716 for more details and to register.
The CGH diabetes education department also offers a free prediabetes class every month to help you learn more about how you can avoid diabetes and its complications.
In addition, CGH partners with the Whiteside County Health Department to provide one-on-one counseling with a certified tobacco-cessation specialist.
If you're not certain of your heart disease risk, we can help with that too. HeartCheck at CGH Medical Center uses a LightSpeed CT scanner to produce computerized heart scans that give doctors fast, clear pictures of clogged arteries to examine the cause of chest pain, high blood pressure, cholesterol and other cardiovascular concerns, enabling early detection and more precise treatment of heart disease.
Physicians recommend you get a HeartCheck if you:
Are between the ages of 50 and 65
Have high blood pressure
Have a family history of heart disease
Are a smoker
Have elevated cholesterol
Are overweight
HeartCheck at CGH Medical Center is available year-round for just $99. Gift certificates are available. For more information or to make an appointment, call 815.625.0400, ext. 5550, or email us.
Your Heart Health
Heart disease, stroke, and other cardiovascular diseases cause 1 in 3 deaths in the United States. High blood pressure, high LDL (bad) cholesterol, diabetes, and smoking are key risk factors for heart disease and stroke. Other risk factors are overweight and obesity, prediabetes, unhealthy diet, and not getting enough physical activity.
CGH has gathered the most important numbers relating to your heart health all in one place! Look below to see if your numbers fall in the healthy range—if not, contact your primary care physician at CGH for further advice or care.
Blood Pressure—measures the pressure put on artery walls when your heart beats and between beats.
Less than 120/80 mm Hg is normal
120/80 to 139/89 is prehypertensive
140/90 mm Hg or above is high
Cholesterol—know the "good"—HDL, the "bad"—LDL, and the fats—your triglycerides. The higher your HDL, the lower your chance of heart disease, while the more LDL and triglycerides you have, the greater your chance of heart disease.
Total cholesterol should be less than 200 mg/dL
HDL levels at 50 mg/dL or above are ideal
LDL levels should be below 100 mg/dL
Triglycerides should be below 150 mg/dL
Blood Sugar—a measure of how much sugar (glucose) is in your blood. High blood sugar can signal diabetes.
Fasting levels below 100 mg/dL are healthy
Fasting levels between 100 mg/dL and 125 mg/dL are considered prediabetes
Fasting levels of 126 mg/dL or higher typically result in a diabetes diagnosis
Body Mass Index (BMI)—BMI indicates whether or not a person is overweight or obese.
Weight (in pounds) ÷ Height ÷ Height (in inches) X 703 = BMI
18.5 to 24.9 indicates a healthy weight
25 to 29.9 is overweight (excluding well-muscled individuals)
30 or higher is considered obese
Waist Circumference—number of inches around your unclothed abdomen, just above the hip bone, can indicate your risk for some diseases like diabetes.
A measurement of less than 35 inches is desirable for a woman and less than 40 inches for a man.
Heart Attack? Chest Pain? Time is of the Essence.
As an Accredited Chest Pain Center, CGH Medical Center's approach to heart care – using the newest methods and best practices – allows us to provide treatment in the critical first stages of a heart attack. The faster a heart attack is treated the less damage to the heart and the better the outcome of their treatment. CGH Medical Center is dedicated to providing our patients with the best heart care treatment available. If you think you might be having a heart attack, seek treatment immediately. Call 9-1-1.
Strokes happen when a blood vessel in the brain bursts or is blocked. This prevents oxygen from getting to the affected part of the brain. Cells in that area of the brain then begin to die. Depending upon which brain areas are affected and how long it was before treatment began, stroke survivors may suffer mild to severe disabilities.
Knowing the symptoms of stroke can help you get medical help fast. Symptoms include sudden:
Numbness or weakness of face, arm or leg
Confusion, trouble speaking or understanding
Vision changes in one or both eyes
Trouble walking or staying balanced
Severe headache
Double vision, drowsiness, nausea, vomiting
There are three simple tasks that can help you determine if someone is having these symptoms. If you suspect someone is having a stroke, ask him or her to:
Smile
Raise both arms
Coherently speak a simple sentence
If he or she has trouble performing any of these tasks, call 911 right away to seek Emergency Services with CGH.
We are committed to providing exceptional care for patients with stoke symptoms. In addition to being an Accredited Chest Pain Center, CGH Medical Center has also been recognized as an Acute Stroke Ready Hospital. This means our Emergency Department has the expertise and medication to diagnose and treat the stroke with advanced therapies to minimize the damage that occurs from the stroke. If a stroke requires even higher levels of neurologic expertise, we also have partnerships with excellent area treatment centers in order to rapidly transfer patients to ensure the best possible outcome for every stroke patient.
Meet our cardiology team
Our cardiology department features board-certified cardiologists and nurse practitioners who are adept at treating almost any heart condition. Visit our provider directory to learn more about the talented practitioners ready to see you.


"The Heart of the Matter" - Growing Healthier Program, featuring Twinkle Singh, MD, CGH Interventional Cardiologist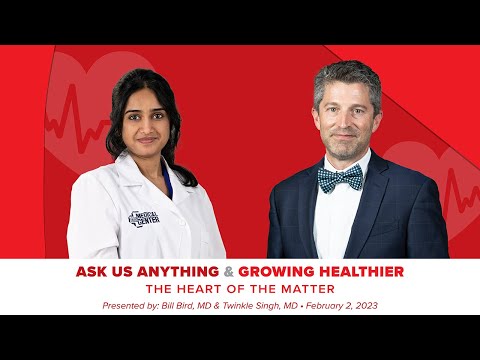 Heart Health Videos