CGH Physical Therapists Participate in Global PT Day of Service
Community news
|
Wednesday, October 14, 2020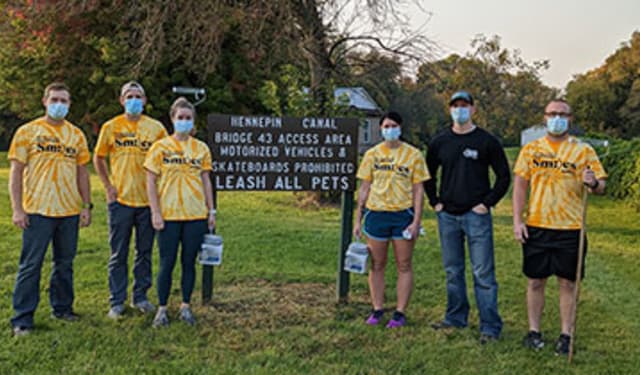 Contact: Nicole Bollman
Sterling, IL (October 13, 2020) – On October 10th, CGH Physical Therapists participated in the Global PT Day of Service (PTDOS) initiative. Partnering with the Illinois Department of Natural Resources, CGH Physical Therapists volunteered their time and helped clean up the Hennepin Feeder Canal. Volunteer activities included trash pickup along the bike/walking path and painting over graffiti on the walls of buildings and bridge underpasses.

Pictured L-R is Geoff Wright, Dugan Repass, Jennifer Adamson, Linsey McBride, Drew Carroll, Nathan Ackert.
Since its inception in 2012, PTDOS has grown exponential with service projects occurring each year in countries all over the world, and in all 50 states across the United States. To their knowledge, PTDOS is the first global Day of Service coordinated by a whole profession. It gives them the chance to lead and serve at the same time.
"October is National Physical Therapy Month," said Geoff Wright, PT, DPT, MHA, OCS, SCS, Manager – CGH Outpatient Therapy Services. "Our team of therapists wanted to celebrate by making a difference in our local community."
The CGH Rehab Services Department has also organized a canned/non-perishable food drive to support community food banks. Items will be collected through the end of October and then donated to the local food pantries.
The CGH Medical Center Physical Therapy team provides physical therapy services in the inpatient, home health, outpatient, pediatric, and school settings. They take pride in the ability to provide care across life's spectrum, from pediatric to sport, work, and geriatric care. At CGH Medical Center, we understand that physical therapy is personal. That's why we create individualized plans tailored for your body and your health goals. Our team of physical therapists will meet with you and discuss your injury or illness. Then, we'll create a plan that blends health education, supervised clinical exercise, and at-home practice utilizing the most up to date evidence-based practice.
CGH Rehabilitation Services brings recovery and restoration together by uniting Physical Therapy, Occupational Therapy, Speech Therapy and Pediatric Speech, Occupational & Physical Therapy all conveniently located close to where you live. For more information visit https://www.cghmc.com/rehab.
-CGH-