CGH Breaks Ground on the New Rock Falls Medical Center
Hospital news
|
Wednesday, March 7, 2018
Contact: Nicole Bollman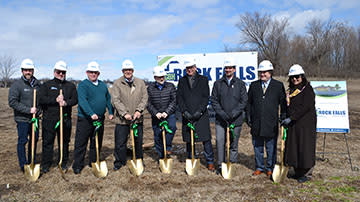 Photo from left to right: Scott Winter, VP Design & Mark Winter, CEO Winter Construction; Rock Falls Mayor Bill Wescott; Land Owner Ron Gerken; CGH Board Chair Andy Moore; CGH CEO Dr. Paul Steinke; Shane Brown VP CGH Clinics; Eric & Medhu Gresla, Architects
Sterling, IL (March 7, 2018) – CGH Medical Center is dedicated to providing exceptional care to all our patients. CGH broke ground today at 1315 Dixon Avenue, Rock Falls, IL the future home of the CGH Rock Falls Medical Center.
The new 7,000 square foot facility will provide our Rock Falls community members more convenient access to primary care services. It will accommodate four full-time primary care providers, and will feature a drop-off canopy and more adequate parking.
"This new facility will offer a better footprint for providing primary care services to residents in Rock Falls and our surrounding communities for many years to come," said Shane Brown, VP Physician Services & CGH Clinics.
Construction is expected to start this month (weather permitting) and the facility is expected to open by January 2019 with four providers.
CGH has been considering building a new larger facility, specifically designed for a medical clinic, for some time now. The current facility at 100 West 1st Street has been rented from the Peterson family since 2005 – an economical solution at that time. In order to better serve the Rock Falls community, the new facility has been in the works since April 2017 with final board approval in October of 2017.
During construction, primary care patients will still be seen at the current 100 West 1st Street location. Care is provided by pediatrician, Manorama Hermon, MD, FAAP and family medicine nurse practitioners Donna Cook, APN, NP-C, Toni Ikens, APN, FNP-BC and Jennifer Garriott, APN, FNP-BC.
CGH has 16 clinics throughout the Sauk Valley area in Sterling, Rock Falls, Dixon, Milledgeville, Morrison, Mt. Carroll, Polo, Prophetstown, Tampico and Walnut.
For more information on CGH Rock Falls Medical Center or to make an appointment at any of these locations, please call 815.625.4790 or visit www.cghmc.com/locations.
-CGH-