Put those Thanksgiving leftovers to good use
Nov. 29, 2019—Having Thanksgiving leftovers doesn't mean you're destined for a week of turkey sandwiches. Instead, make a plan for creative and delicious leftovers.
Start with safety
The right prep is key. Cut the turkey off the bone. Refrigerate the meat within two hours of the turkey coming out of the oven.
Leftover turkey will last in the refrigerator for four days. If you're not going to use it right away, freeze it in airtight containers or freezer bags. Frozen leftover turkey will be safe indefinitely, but it will start to lose flavor and dry out after four months.
Packaging leftover turkey in meal-sized or recipe-sized portions can make future meal prep much easier. And remember to check the internal temperature of the meat when reheating it. Use a food thermometer and aim for at least 165 degrees.
Think beyond the sandwich
Need ideas? This recipe offers a fresh take on turkey. Enjoy!
Turkey fajitas with baby spinach and red peppers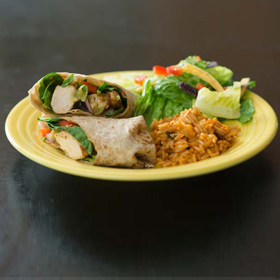 View step-by-step instructions