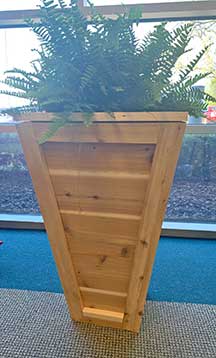 Join us VIRTUALLY for the April 30th - May 4th CGH Health Foundation Silent Auction!
The annual event features 155 amazing baskets and gourmet desserts sure to delight - fun for kids and adults alike! Check out the planter made by Dugan Repass, PT, shown above with other samples of baskets, and two patio sets below!
Bidding will be virtual from April 30th at 7 a.m. to Tuesday, May 4th at 9 p.m. on AirAuctioneer.com.
View baskets online at https://airauctioneer.com/2021-cgh-health-foundation-virtual-auction or come out to 2600 N. Locust St. (in the same building with CGH Peds Rehab Center) to see them from 8 a.m. to 5 p.m., Friday, April 30, Monday, May 3, and Tuesday, May 4.
All proceeds go to help the people of the Sauk Valley – every dollar stays here. For further details about the CGH Health Foundation, go to cghmc.com/foundation.
Event Co-Chairs are Tiffany Marquez, CGH Accounts Receivable, and Beth Warner, CGH Main Clinic Communications Coordinator. All bidding will take place over 5 days. Pay with cash, check (payable to CGH Health Foundation), credit card, payroll deduct (CGH Employees only), or with Venmo @CGH-HealthFoundation.
Winning bidders may pick up baskets on Wednesday, May 5, and Thursday, May 6 from 8 a.m. to 5 p.m. at 2600 N. Locust St.
For questions, please call the CGH Health Foundation at 815-625-0400, ext 5672 or 5575