The CGH Health Foundation 2022 Annual Appeal campaign was devoted to easing the journey for those impacted by dementia. A primary goal of the "Memories Matter." fund drive was to create a Dementia Navigator position to assist our dementia patients and their families.
New Dementia Navigator Beth Sterk begins her duties on Monday, March 27. She will be assisting area individuals and families affected by dementia in identifying support services and resources. "I am honored and humbled to engage, assist, and encourage families as we navigate their challenging personal journeys together," said Beth.
The new role is being funded by the CGH Health Foundation. Beth will work closely with those patients referred by CGH neurologists and primary care physicians. She will be the liaison between providers and patients upon diagnosis, working to identify potential options for care planning and community resources. The navigator will educate patients and families on what to expect and assist in developing a plan of action.
After March 27, she can be reached at 815/625-0400, ext. 3977, or via email at beth.sterk@cghmc.com. Her office is in the CGH Main Clinic. She will be available on-site on Mondays and Tuesdays and via email or phone from Wednesday through Friday.
The navigator will also provide information on area Dementia Caregiver Support Groups. She is a trained Alzheimer's Association volunteer and co-leads a support group at Morningside. One of her goals is to create a directory of services/resources.
For more information, contact Foundation Executive Director Joan Hermes at 815/625-0400, ext. 5672, or email her at joan.hermes@cghmc.com.
ANNUAL APPEAL
Every member of the campaign leadership team has had a personal experience with dementia. The annual drive has been focused on raising funds for dementia education, awareness building and resource development. Contributions will help bridge the gaps that exist in dementia care in the Sauk Valley area. The goal is $475,000 not only for the dementia project, but also for 15 other initiatives. View the Annual Appeal booklet here and download your pledge form here.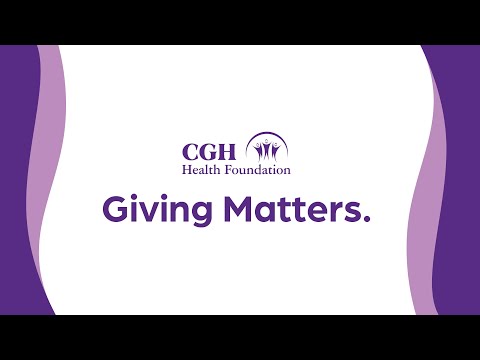 Leaders include: Margaret and Mark Zumdahl, General/Community Division Co-Chairs; Dr. Eric Kuhns, Medical Division Chair; Veronica Edwards, Business Division Chair; Bob Sondgeroth, Clubs Division Chair; and Mimi Hicks and Sandy Williams, CGH Employee Division Co-Chairs.
"Alzheimer's disease runs rampant in my family, with my mom, my aunts and uncles, and now my brother and me, living with it," said Margaret Zumdahl, Sterling. "It was frightening to learn of my diagnosis in 2016 and without my husband, Mark, I could not have thrived as well as I have."
Margaret calls herself lucky – blessed to have been in a drug trial through Advocate Lutheran General Hospital, Park Ridge, that has slowed the progress of her symptoms. "We decided from the start that we needed to adapt to the new normal and do whatever we could to live as best we could," she said. "We've done everything as a team, from advocating with legislators for research funds to assisting with support groups to partnering with medical students who want to learn more about the disease. It is so important that we all pull together to create a stronger dementia support system in our area communities."
Along with raising funds, the Foundation is seeking input on how to further help those going through this difficult journey. The goal is to make it easier to find information, to add or expand resources and services in the area and to raise awareness about dementia and how it changes lives so dramatically. For more information or to make a contribution, go to www.cghmc.com/foundation or call Joan at 815/625-0400, ext. 5672.