CGH Chest Pain Accredited
If you think you might be having a heart attack, seek treatment immediately. Call 9-1-1.
As an Accredited Chest Pain Center, CGH Medical Center's approach to heart care allows us to provide treatment in the critical first stages of a heart attack. The faster a heart attack is treated the less damage to the heart and the better the outcome of their treatment. CGH Medical Center is dedicated to providing our patients with the best heart care treatment available.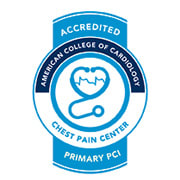 As an Accredited Chest Pain Facility, we use the newest methods and best practices in heart care to ensure that our patients receive:
Right care at the right time to minimize or eliminate heart damage due to heart attack
Timely and accurate diagnoses to reduce the disruption to your life and get you home as soon as possible
Help and communication to better understand how to respond to your heart emergency
Improved quality of life after a heart episode
CGH Medical Center received Chest Pain Accreditation from the American College of Cardiology.
This accreditation demonstrates our commitment to state-of-the-art cardiac patient care.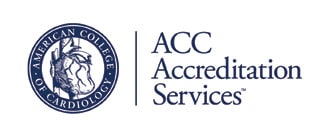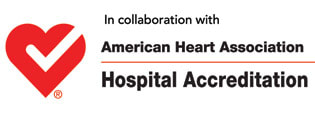 The Joint Commission Accreditation
Recertified by The Joint Commission: January, 2017
We measure our ability to achieve our mission and values by reaching out to national organizations for accreditation. One such organization we work with is The Joint Commission.
The Joint Commission's standards are regarded as the most rigorous in the industry. Healthcare organizations that choose to be evaluated by the commission are therefore committed to providing the highest level of quality care to their patients.
To maintain and earn accreditation, a healthcare organization undergoes an extensive, unannounced on-site review by a select team of commission professionals, such as administrators, physicians and nurses, at least once every three years. The purpose of the review is to evaluate the organization's performance in areas that affect patient care.
Through an assessment of an organization's processes and personal visits with its patients and staff, the organization is evaluated. Accreditation may then be awarded based on how well the organization met commission standards.
CGH Medical Center and all of its affiliates are fully accredited by The Joint Commission. In addition, our hospital has been awarded the Gold Seal of Approval—a confirmation that the accredited organization has demonstrated compliance with the most stringent standards of performance.
We are the only hospital in the Sauk Valley Area to be awarded this quality accreditation.
Medicare compliance and quality
4 Stars from CMS/Medicare: January, 2017
We also provide information about quality to Medicare, and we make that information available to the public. To view CGH's quality reports, head to medicare.gov, choose the "Search" tab, enter "Illinois" and search for "CGH Medical Center." CGH received 4 stars in January of 2020 from Medicare/CMS, one of the few in the area to be awarded at this level. Visit medicare.gov/hospitalcompare to learn more.